Furry family classic, or a traumatising horror film for children? Neil Armstrong examines the enduring popularity of Richard Adams' Watership Down
1969. Civil servant Richard Adams is taking his two young daughters to see the RSC's Twelfth Night, starring the young Judi Dench as Viola. It's a long drive from London to Stratford so Adams, as is his habit, makes up a story to keep the girls amused. 'Once upon a time,' he begins, 'there were two rabbits called, eh, let me see, Hazel and Fiver, and I'm going to tell you about some of their adventures.'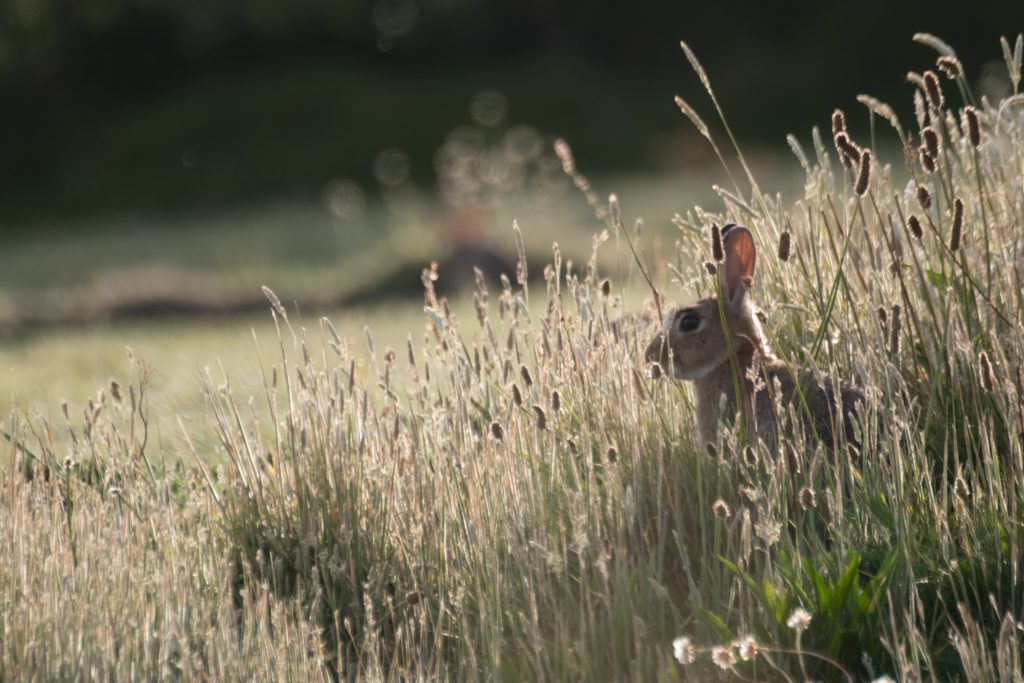 Hazel and Fiver's adventures so entranced Juliet and Rosamond that they pestered their father to write them down, even spending their pocket money on a notepad to persuade him to get started. But the story he eventually committed to paper was a much darker, more complex tale than the one he had told in the car.
Watership Down is about a group of rabbits and the dangers they face searching for a warren where they can live in peace and safety after their home burrow is destroyed. They are snared, poisoned, gassed and shot. They have their throats ripped out. They are drawn into cults. They go to war. There is a terrifying grim reaper figure, the 'Black Rabbit of Inlé', who is 'fear and everlasting darkness'. Festive fun for the whole family, right? The BBC certainly thinks so. A major television adaptation of the book was one of its flagship dramas for Christmas 2018. The four-part animated mini-series, a joint production with Netflix, featured the voices of Nicholas Hoult and James McAvoy as Fiver and Hazel, as well as Gemma Arterton, Olivia Colman, John Boyega, Daniel Kaluuya, Ben Kingsley and many others. An extraordinary cast of awarding-winning stars.
'Older children wouldn't like it because it is about rabbits, which they consider babyish; and younger children wouldn't like it because it is written in an adult style', said one publisher
Adams could never have imagined as he ad-libbed his story about rabbits on the run that half a century later it would still be being read, adapted, adored – especially since, at first, the response was extremely discouraging. After writing it at his daughters' behest, he shopped it around numerous publishers and literary agents and was rejected by all of them. He was so disheartened that he couldn't bear to pick up the manuscript from the latest outfit to have turned it down – his wife, Elizabeth, had to go to collect it. He later recalled that he was told, 'Older children wouldn't like it because it is about rabbits, which they consider babyish; and younger children wouldn't like it because it is written in an adult style,' Nevertheless, he refused to alter it. Finally, he got a break when he sent the book to Rex Collings, who ran a small publishing imprint. Collings loved it. 'I've just taken on a novel about rabbits, one of them with extra-sensory perception,' he wrote to an associate. 'Do you think I'm mad?'
Watership Down had an initial print run of 2,500 in November 1972 and Collings made sure copies landed on the desks of newspaper literary editors. Excellent reviews led to the book being published in America and then reissued by Penguin in England. It has since sold tens of millions of copies all over the world and been translated into twenty languages. Its success allowed Adams to leave the civil service and become a full-time writer. He eventually returned to live on the Berkshire-Hampshire borders, where he had been born and raised, near to the real Watership Down, a hill which is part of an estate now owned by Andrew Lloyd Webber.
Subsequent novels were successful but never on the same scale. Shardik, which Adams regarded as his masterpiece, was a fantasy about a fictional land in which a bear is the object of religious reverence. The Plague Dogs told the story of two dogs who had escaped from a research laboratory. The Girl in a Swing was an odd and unsettling horror story.
Adams always insisted that Watership Down was not intended to be allegorical. 'It is simply a story about rabbits made up and told in the car,' he wrote in an introduction to the novel. But several characters in the book were based on people he met – officers, resistance fighters – during his time in the army during the Second World War, and fans have read all sorts into it. It's about refugees. It's about the defeat of totalitarianism. It's a retelling of Homer or Livy. It's about the search for a Jewish homeland. It's a rallying call for environmentalists.
Philip Oltermann, chief of the Guardian's Berlin bureau, has written of his love for the book and how Adams's invented rabbit tongue, Lapine, helped encourage him, a German-speaking teenager, to learn English. He told me that 'the book has endured partly because of its literary qualities, its ambition to build and then pass on to the reader an entirely new language'. He also points out that Watership Down is more violent and disturbing than other classic works of fantasy typically read by children such as Lord of the Rings or Winnie the Pooh. 'For many younger readers or viewers, it would have been the first time they are confronted with death in fiction,' he says. That was the case with the gruelling first film version and the reason why, according to popular belief, it traumatised a generation of children.
The 1978 animated adaptation featured the voices of John Hurt and Richard Briers and a soundtrack that included the memorably mournful hit single 'Bright Eyes', written and composed by Mike Batt (of Wombles fame) and sung by Art Garfunkel. ('How can the light that burned so brightly, suddenly burn so pale?') Dr Catherine Lester is a lecturer in film and television at the University of Birmingham. Earlier this year she organised an academic conference marking the fortieth anniversary of the film's release. She considers it a children's horror film.
'Watership Down ruined my childhood,' said one Twitter user
'A lot of children who might have been too young to read the novel because of its length and complexity got to see the film,' she says. 'Because it's an animated film about rabbits and it was rated a U, people had the impression that it was going to be something very child-friendly. In fact there are lots of instances of violence throughout the film represented quite graphically and viscerally. You do see lots of blood. Part of the reason for its enduring popularity is that even though it is very traumatic, that trauma is part of its identity and was almost like a rite of passage for many children. But it's also a very moving, very profound story about heroes overcoming adversity.'
When, for the second year in a row, Channel 5 aired it during the daytime on Easter Sunday last year, it did so with a warning – 'scenes that some viewers may find upsetting' – more usually reserved for edgy crime dramas. Naturally that wasn't enough for some viewers, who took to social media to express their outrage. Channel 5 was accused of being run by psychopaths. 'Watership Down ruined my childhood,' said one Twitter user. 'I'd rather watch The Exorcist,' said another.
However, in the BBC-Netflix version, the violence has been toned down considerably in a bid to make it more family-friendly. 'While we won't shy away from the darkness in the book, visually it won't be as brutal and scarring,' executive producer Rory Aitken told the Daily Telegraph. I hope they haven't gone too far the other way. After all, we love a bit of darkness at this time of year. Let's not forget that the most popular Christmas film ever, It's a Wonderful Life, is about a suicidal bankrupt. Adams died at the age of ninety-six on Christmas Eve 2016. Game of Thrones author and Watership Down fan George R R Martin wrote on his blog that 'the world lost one of its great fantasists today'. Years later, his best-loved book is still enthralling a whole new generation of readers.
Want more great Boundless essays in your inbox every Sunday? Sign up to the free, weekly newsletter, here.