Writing partners Michelle Jana Chan and Shehnaz Suterwalla marched through London to demand their rights... just like so many women before them
From above, 100 metres up, the roads look like they're morphing, as if the tarmac has taken on some organic life form, like cells multiplying on sped-up film. Yet there is only a slight, almost imperceptible, sense of movement in a particular direction. South along Park Lane, around Hyde Park Corner and flanking the edge of St James's Park. A pulse towards Parliament Square. And the more people there are – which is good – the less they move. Funny that: a kind of dynamic deadlock. Shuffling, rather than marching. The great anti-Brexit oscillation.
From an aerial view, it's impossible to differentiate individuals. There's a hazy blue hue to the coherent mass, but nothing more defined. At ground level nobody looks the same of course; the blue turns out to be the colour of the flags that many wear as superhero capes, or wave above their heads, or wrap as turbans. There are Labradors wearing EU flags knotted around their necks.
They are both here, the two of them, only a few miles apart. Same day, same protest. Of course they both would be. They had checked with each other earlier in the week to ask, confirm really, that they would be at the march, all set with their homemade placards and gung-ho children who had been spurred by their mothers' rallying cries.
When one of them descended into the Tube warren to catch the train into central London, passers-by stopped to compliment her kids on their efforts. HAVE A PEOPLE'S VOTE, PUT IT TO THE PEOPLE is what she'd told the children to write. 'Let's repeat that call,' she'd said. Despite this, she wasn't particularly in the mood to speak to strangers that day. She had said and heard it all before. The same old tired bonhomie that you pretend to share when you group together in a cause. The energy to be hopeful, to be enthusiastic, extended her too much that day; instead she wanted to withdraw into the hum of the journey in the tunnel and think about other things. Be in her own head.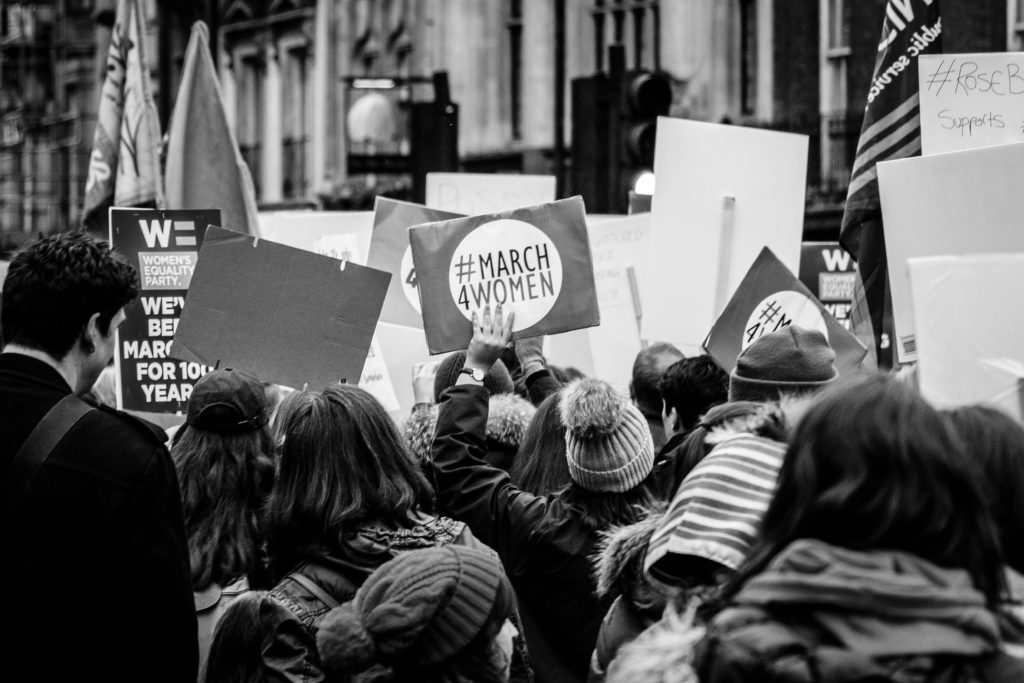 Photo by Roya Ann Miller on Unsplash
She did think briefly about her mother for a few minutes. Only because the woman who briskly gunned for the seat opposite reminded her of her mother's new hairstyle. Something shorter now, to disguise the thinning. Her mother had never been on a protest. Not physically. Never. But psychologically, always. All the time, everyday. She was born in 1945, two years before the partition of India and independence from the British. She regularly bellowed nationalist slogans, even seventy years on, as clearly as her own name. Jai Hind. Vande Mataram. Her daughter wasn't always sure of the exact translation of the many Hindi phrases that she quoted from Indian freedom fighters. But she got the gist of them. Their meaning in her mind was unambiguous. Get out of India! Let us be free! The birth of the largest democracy in the world! And then once her mother had migrated to England, the Indian tempo reverberated with different but connected sounds: Never forget your roots! But I'm Indian! There was always some sort of struggle in the minutiae of her mother's daily routine: In how she dressed – Indian or British? In how she allowed her daughters to dress – how tight is still respectable? In what language to speak at home – Gujarati or English? In how to hold on to our Muslim identity in the secular microcosms of everyday decisions, directions. She had a daily fight on her hands in trying to forge a clear path for her children out of what seemed like the messy, unconstructed cultural rubble of British–Indian hybridity.
Her mother bellowed nationalist slogans, even seventy years on, as clearly as her own name. Jai Hind. Vande Mataram
She parked those thoughts and turned to her own children to signal that they would disembark at the next stop. 'Green Park,' the eldest said aloud, reading off the Tube map. She stood up from her seat before the train had stopped at the station so that she could grab the girls' hands, one each, to make sure they formed a line – a protective, interlocking chain – to exit the train, and they held this position until they left the station, four flights of stairs later.
She was relieved to return to daylight. There was some sun. Slight but gently warming, and because the roads had been shut to traffic it felt uncommonly calm, a hush of anticipation. She was used to these roads during rush hour and the contrast felt somewhat eerie. She was relieved when she heard the feedback from the megaphone amps boot up for the day's celebrity speakers.
Photo by Roya Ann Miller on Unsplash
They stood on the road for a while to orientate, to become absorbed into the crowd. Somehow, she struggled to stay present. Though her mother was only two when India achieved independence, independent India still defines her. And now, the daughter is consumed by protest too, she thought, knowing that every moment of her day has become about rising up. Is there any other way to be, but to protest? It consumes the efforts of her quotidian tasks, almost each one shaped by resistance. Stop Brexit; offset her carbon emissions; defend cultural Islam to her children so they might side-step the fervent winds of Islamophobia that sweep not only the mainstream but even the liberal corners around them; speak up at the staff meeting to say again that whiteness is not the default; guard her data privacy under the Settings tab; stop Facebook hacking her democracy…
---
The other had gone straight to Westminster Tube station from lunch at a Chinese restaurant where she had been celebrating her youngest child's second birthday. She had been trying to hurry everyone through the course of Peking duck while checking her Twitter feed to locate the head of the march. At some point during the meal – perhaps as she lit the two sparkler candles on the cupcake and had been told off by the staff for risking setting off the fire alarm – she'd given up joining the marching part, resigning herself to having to head straight to Parliament Square.
She'd made enough placards for everyone, in case she managed to persuade the whole party to join. And they all did, it turned out, which she acknowledged was probably more about spending a few more hours together. She handed out shabby, torn-off pieces of cardboard box that she'd strung with ribbon late the previous night and had scrawled with black marker pen: REVOKE 50; I HEART EU; MAKE LOVE, NOT BREXIT; REVOKE, RESIGN, REFERENDUM; KIDS KNOW HOW TO MAKE FRIENDS, BREXITEERS DON'T (for the six-year-old); I ROAR TO REMAIN (for the four-year-old); TODDLERS 4 REMAIN (for the birthday boy).
She was agitating everyone to speed up, frustrated with those who had to top up Oyster cards. She lifted and carried her two youngest kids, one on each hip, to gather pace. Her partner told her to take it easy, that the march wasn't going anywhere. But that was the point: it was going somewhere. It needed to.
Walking out of the Tube into the daylight felt much more than just arriving at a destination. Her parents had come along and it was the first time she and they had attended a protest together. Parents, who, on her maternal side, knew everything about physically standing up to the authorities, demonstrating on the street, vocalising their fight for freedom; and who on her paternal side knew the power of silent protest.
Her mother's country, Czechoslovakia, had been under Soviet occupation for forty years. Her grandparents had carried their daughter out of that country as a baby when they escaped to the West in 1949, leaving behind everybody they knew and loved. They were then separated for decades on two sides of an Iron Curtain. They went from their home in Karlovy Vary to a refugee camp in Germany and on to London, the hallowed city of immigrants, but they never lost hope to see their homeland liberated. On every anniversary – the date the country was formed, the date the country was occupied, the national feast days of patron saints, of any landmark occasion – they would march on the streets of London. Most memorably, they showed their solidarity with their fellow countrymen during the Prague Spring of 1968, as the Russian tanks rolled into Wenceslas Square and crushed the student uprising. Jan, her mother's father, was carrying the Czechoslovak flag at the front of that march in London with his twenty-one-year-old daughter by his side. A photograph of the march made the front page of the British broadsheets. Years later, after communism had fallen, her mother's family in Czechoslovakia revealed that they had been thrown into prison because of that picture. They had to pay for the fact that the exiled family had protested. Traitors of the state. Even from afar.
Protesting is part of our family DNA, it's who we are
She looked at her mother's face now, older, tired, but slightly rosy today, aglow, buoyed by what she saw around her. They were Europeans. They always had been. It was good to have her mother by her side. Here they were – mother and daughter – standing shoulder to shoulder to remain, to sustain their European identity, to chart a shared vision for the continent. After all, they also knew what a continent looked like when ripped apart.
Then she looked to her Guyanese father carrying her two-year-old on his shoulders. He was wearing a new sports jacket and looked youthful. She'd deliberately given him the MAKE LOVE, NOT BREXIT placard, which made her smile now. His fight had been a different one: as a child the struggle to win scholarships as the only way up and out. He became the first pilot of colour at British Airways, despite having an unpronounceable name, the wrong background for success, coming from a little-known country on the other side of the world, as well as the wrong side of the tracks. He had to protest daily, too, to fight all the assumptions that he would never make it.
She suddenly felt overwhelmed by all of them being here together. I must remember this moment, she thought. Protesting is part of our family DNA, it's who we are.
And yet at the same time, she confessed she also feels like a cliché. She knew she'd probably be posting that requisite Instagram picture of them all at Parliament Square, resembling more of a family day out; she'd be keeping one of the banners that her six-year-old had decorated so beautifully – maybe she'd even frame it and hang it in the cloakroom; and on Monday morning in the office, she'd talk about her weekend and say she'd done her bit. She'd been there. There might not be a real sense of physical risk here, of life-and-death politics, of imprisonment, as it was for her family, but her fight is as real.
Photo by Roya Ann Miller on Unsplash
As women, they both feel that protesting physically, with their bodies, to create labyrinthine masses calling for change in city streets must matter – and must count – because of its resonance with the commitment of women before them, and around them, who have suffered physical assaults for fighting for their rights, for their emancipation. More than a hundred years ago in these very same streets, the Suffragettes were groped and imprisoned, then brutally force-fed. It was women in the Women's Liberation movements of the 1960s and 70s who marched in London to fight for, among so many things, equal pay, despite angry media responses that sought to demonise and ostracise them as feminist homebreakers. Women grouped together to battle daily with brutish police at Greenham Common peace camp in the 1980s to protest for nuclear disarmament.
This same sort of abuse now follows Greta Thunberg, the brave Swedish sixteen-year-old climate change activist
Further afield, all over the world, women's marches have sustained pressure for change that has benefited all: in Pretoria, especially in the 1950s, women's marches against South Africa's pass laws – laws that limited the movement of black people – eventually proved successful and were revoked in the 1980s, at the cost of much police brutality and prosecution. Women of all ages, from Argentina through to Poland, have risked prison sentences as they have protested for abortion rights. The Women's Marches in the months following Donald Trump's election saw women all over the world don knitted pink hats – pussy power hats – to forge images of seas of pink in resistance to misogyny and in solidarity with each other, despite hounding from right-wing media trolls. This same sort of abuse now follows Greta Thunberg, the brave Swedish sixteen-year-old schoolgirl, the relentless climate change activist who this month, on a visit to London, has been bullied by right-wing commentators and politicians alike as they continue to deny climate change.
---
For the two friends, that day's protest on the street carried weight despite the anomie and disillusionment that niggles. The protest was significant not just for their politics but for their personhood. This one stood alongside the myriad protests in their minds, in their daily lives, in their imaginations. All of these together have become the regular, rhythmic beat of their lives, and even more so in this time of surveillance and algorithmic prediction that is creating a new crisis: one of freedom. It is urgent to protest. Data tracking has become the new clear and present danger to individual privacy, choice, and it seems to be taking over all aspects of life, leaving nowhere to hide. It seems crucial to protest against the creep of a dark controlling force which now comes in the shape of AI, which promises to manipulate the way we all live, the way we work, even the way we love.
Plus so much of the battle is covert now, with prejudice, discrimination, institutional bias embedded in code that doesn't have a skin colour or a visual identifier, and so belies the true nature of the opponent. It might be harder now than ever to fight the enemy, an unknown quantity. These two women – at two ends of a march – attest that the street protest is, in fact, the easy one. It's the off-street, online, machine-learned nexus of power that is the new frontline, the new arena of protest.
Bring it on.
Michelle Jana Chan and Shehnaz Suterwalla are writing a polyvocal mixed-genre book, DUET, exploring themes of identity as women of colour, as well as memory and friendship; reflecting on their different but resonant family histories and yet also capturing the contemporary global moment.