Recent times have seen the publication of a slew of novels responding to Trump, Brexit, and the populism that lies behind their success. How does the nuance of fiction confront these hard certainties? Frequently, and with great skill, finds Geraldine Bedell
In Nicholas Hytner's production of Julius Caesar at the new Bridge Theatre in London, the plebeians stroll around the pit in red baseball caps. The hats are emblazoned with the word 'Caesar' but they might as well say 'Make America Great Again': the reference could hardly be clearer. Ben Whishaw, who plays Brutus, told the Observer in January that Hytner is 'obsessed' with the way the play 'seems to be suddenly so relevant again. We talk a lot about Trump, obviously, Brexit and the rise of the populist movement.'
Political convulsions on both sides of the Atlantic have been a call to arms to artists. Populism scorns many of the values that writers hold dear: articulacy, precision, empathy. It ridicules acuity, sympathy, and a desire to make sense of the world, preferring to bend the world to its will. Barack Obama credited books with getting him through his time in the White House; Donald Trump is not known ever to have read a book from beginning to end. His aides have learned to sprinkle his name through his briefings to hold his attention. He is, in some sense, anti-literate.
It is hardly surprising that writers feel compelled to confront the perversion of the tools of their trade into 'fake news' and 'post-truth' – and recent months have seen the publication of a slew of novels responding to Trump, Brexit, and the populism that lies behind their success. These novels have cut across genre, and they are of variable quality – but perhaps the most surprising thing, given how long novels take to gestate and publish, is how outstanding some of them are.
Trump's verbal crassness is the basis of the best joke in Howard Jacobson's novel Pussy. (The novel is in many ways unsatisfactory: Jacobson has spoken about sitting down to write it in the early hours of the morning after the election result, convinced that all other novelists would be doing the same and that they would want the title Pussy, which he was keen to get to first.) His Trumplike character, Prince Fracassus, has a ten-word vocabulary. His tutors hang around in the hope that he will one day need some more words, but only having ten turns out not to matter in a world in which meaning itself is unstable: 'It was as though Fracassus inhabited some hitherto undiscovered zone between meaning what he said and not meaning what he said. Ambiguity, was it? No, ambiguity took cognisance of alternatives.'
The best artistic responses to Trump, Brexit and populism seeks to bridge the divide, or at least to understand the other side: art that interrogates is usually more potent than art that rushes to judgement
There is a similar preoccupation with words and their meaninglessness in Sam Bourne's thriller To Kill the President, which was published in June 2017. The novel's Steve Bannon-type character, Crawford McNamara, tells a White House staffer, 'you still think it's all about facts and data and reason and science and all those things you built your lives and your careers on. But none of that matters any more.' The erosion of an agreed basis for reality is fertile ground for the novelist, who is likely to think both that reason and science and 'all those things' do matter, but also to have a sense of the power of thwarted emotions, and the lure of the human desire for a bigger, more abstract sense of belonging and meaning.
It's not just novelists, of course. One of the most compelling artistic responses to Brexit so far has been Grayson Perry's vases, Matching Pair, which display the symbols and beliefs of a divided nation (many of them shared by both sides) on objects as fragile as the nation's current truce. Carol-Ann Duffy attempted something similar with her play My Country: A Work In Progress, which played at the National Theatre in early 2017, and was shown on BBC2 in November 2017. It used verbatim testimony to explore the state of the nation. And Mike Bartlett's play Albion at the Almeida in 2017 wrestled with the way that ambitions to preserve the past and to recreate a better world are alike overshadowed by impersonal, intractable forces.
Most of the artistic responses so far have come from an anti-Trump, Remainer perspective (although, in the best work, this isn't necessarily very obvious). A UK Creative Industries Federation survey found that 96 per cent of the Federation's members were Remainers, and the cultural community is one-sided enough to have inspired Leavers to set up a group called Artists4Brexit in protest at what they see as their isolation and exclusion. Among novelists, Susan Hill and Dreda Say Mitchell are rare examples of notable Leavers. In the United States, the street artist Sabo (an example of his work is a billboard proclaiming 'Black Lives Are Just Matter') is the most prominent of a handful of street artists working in Los Angeles who don't share the liberal consensus, although their work feels like trolling, and it's hard to see it as more than a provocation.
The best artistic responses to Trump, Brexit and populism tend to seek to bridge the divide, or at least to understand the other side: art that interrogates is usually more potent than art that rushes to judgement. But some writers have rushed to judgement anyway. The tone of Howard Jacobson's Pussy is scathing and scabrous. The novel contains some great insights about the relationship of language to meaning, but isn't quite the zinging pastiche of eighteenth-century satire that Jacobson intended. Urgent but plotless, fantastical and frenetic, it comes across as a yelp of pain.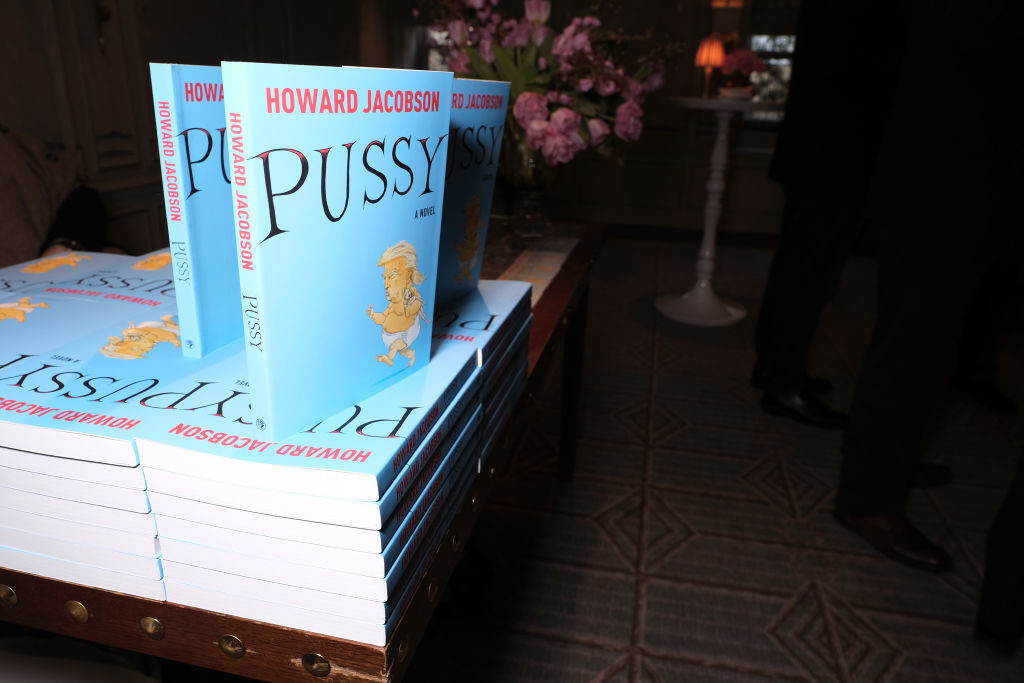 Pussy by Howard Jacobson (Photo by David M. Benett/Dave Benett/Getty Images)
There is, of course, a view that satire is a hopeless enterprise in an age when news is so fast moving, when politics is capable of throwing up absurdities that make satire look pallid. Sure enough, Time of Lies by Douglas Board, heralded by Chris Mullin as 'the first post-Truth, post-Brexit novel', starts from an interesting idea: the old major parties have split and a populist party, Britain's Great, has seized power. But in terms of actual plot, Time of Lies struggles to be as gripping as the government's current meltdown and abject failure to tell us what Brexit means other than Brexit. Satire is not dead – witness Jon Stewart and John Oliver, and the BBC's The Mash Report in the UK – but arguably at this speeded-up moment it works better on television.
Salman Rushdie's new novel The Golden House, like Pussy, is interested in the shifting status of facts in America. 'To know the truth is to be elite,' says the narrator. 'If you say you saw God's face in a watermelon, more people will believe you than if you find the Missing Link, because if you're a scientist then you're elite.' The Golden House (also like Pussy) is a frenetic, hyperbolic fantasy. There are some good moments:  a discussion of identity politics, a presidential candidate modelled on Trump, known as The Joker, to whom 'lying was funny and hatred was funny and bigotry was funny.' But the novel is chaotic, clotted with show-offy cultural references that don't seem anchored to the characters, full of bluster and noise.
To Kill the President is a more enjoyable read. A narcissistic, toddler-like US President tries to start a nuclear war with the North Koreans, alerting his aides to the urgent need to separate him from the nuclear codes. Sam Bourne is the alter ego of the Guardian journalist and former Washington correspondent, Jonathan Freedland, and the book's US publication sparked accusations from the alt-right that he had murderous intentions towards the real president, and was an Anti-White journalist. (He is Jewish.) In fact, Bourne/Freedland is making the same point as Shakespeare in Julius Caesar: murdering your political opponents is not very democratic and is almost bound to make matters worse.
But who cares what an artist is really saying, if facts are fungible? After a New York Public Theater production of Julius Caesar last summer had Caesar in an orange wig and red tie with Trumpish mannerisms, Shakespeare companies across the US started to receive hate mail. Most weren't even performing Julius Caesar at the time. Simply to be engaged with Shakespeare was enough. That might make artists wonder what is the point of putting anything out there, if it's going to be wilfully misunderstood? Or it might make them think that reflection and trying to mine truth is what they do and have to go on doing.
Freedland has said he handed in the manuscript of To Kill the President on the eve of the inauguration. (It was published unchanged.) The most astonishing aspect of the book is its prescience: it anticipates a great deal about the White House. It does, though, fail to predict Steve Bannon's fall. Bourne's McNamara is beautifully drawn: foul-mouthed, amoral, ruthless and – as it turns out, unlike the real thing – highly effective.
Fiction is an appropriate response to Brexit, Cartwright told me, because of its capacity to express 'tentativeness and provisionality, to convey conditions that are complicated, layered and nuanced . . .'
To Kill the President throws up questions of personal responsibility in the face of tyranny, and it's a fine thriller – but Trump has yet to inspire any books as good as several of the post-Brexit novels. This may be because Trump himself is so mind-bogglingly preposterous that he gets in the way. Brexit novels tend to deal more with causes – and in fact some of the books that have been touted as Brexit novels, such as Amanda Craig's The Lie of the Land, were conceived years before the vote and simply happen to be observing the divisions that led to it.
Tom Stoppard told a newspaper in 2017 that Brexit is too big a subject to be easily dramatised – but some really remarkable writing has emerged in response to it. Anthony Cartwright was commissioned to write a Brexit novella by Peirene Press, a small publishing house specialising in translations and experimenting with new ways of publishing. The result is The Cut, an allusive, delicately observed book that should probably be required reading for Metropolitan liberals.
Cartwright doesn't confront the vote head-on: as in his other work (his fourth novel, Iron Towns, was published in 2016,) he focuses on families and on felt experience in which wider events reverberate. Immigration and Europe are relatively unimportant to his West Midlands characters, living as they do in the long shadow of industrial collapse. His wonderful central character, Cairo Jukes, salvages scrap from industrial sites on a zero-hours contract and sees himself as being at the end of the industrial era, with no clear idea about what comes next. A man with a rich interior life, resonant with stories and histories, Cairo is thoughtful, vulnerable, conscious of his diminishment, yet determined not to be the subject of anyone's narrative but his own. His home town, Dudley, is elegiacally evoked as a world of lost opportunities and abandoned plans.
Fiction is an appropriate response to Brexit, Cartwright told me, because of its capacity to express 'tentativeness and provisionality, to convey conditions that are complicated, layered and nuanced, a way of thinking that trips itself up – very different to the hard certainties of the Brexit vote. That may be one reason why novelists have responded.'
Some of that layering and provisionality is also apparent in Autumn and Winter, the first two of Ali Smith's quartet of novels named for the seasons. Autumn (published in October 2016) is set in a sullen England conscious of its own decline and careless of civility. There are references to the murder of Jo Cox; refugees washed up on European beaches; hostility to immigrants; students facing a future of rented homes and debt; hints of the internment of aliens. There is no agreement about the basis for public discourse. 'I'm tired of liars,' one of the characters says . . . 'I'm tired of lying governments. I'm tired of people not caring whether they're being lied to any more.' But there is also a friendship across generations, a sense of the connections between people that make life worth living, and a wonderful lightness in the writing.
Ali Smith (photo by Sarah Wood)
In Winter (November 2017), Smith continues this bravura feat of writing about the state of the nation while seeming not to. There are fragments of fantasy, allegory and allusion – but where in Rushdie they slow things down and distract, here they cohere. There is a sense of joy even in grimness. Words are a world of possibility, not blunt instruments with which to bludgeon. (One of the characters tries to clarify a muddle between Samuel Johnson and Boris Johnson: 'The man who wrote the dictionary . . . the opposite of Boris. A man interested in the meaning of words, not one whose interests leave words meaningless.') In America, Trump is talking nonsense to the Boy Scouts, urging them to boo his predecessor; in Britain, the government is using people's rage for political ends. But Winter is ultimately a buoyant, hopeful novel, revealing the ordinary human mind as a thing of irrepressible creativity.
Adam Thorpe's Missing Fay (June 2017) is set deep in Brexitland – in Lincolnshire, which recorded some of the highest Leave votes in the country, and which, in the novel, is a place of static caravans and bungalows, pylons and council estates, shopping centres, motorways and nursing homes. Thorpe's characters, whose lives overlap but who remain largely isolated from one another, are all trapped by circumstances: austerity, commercialism, the workings of the market. Missing Fay evokes a community that is barely connecting, and it's been hailed as a Brexit novel, although it is set in 2011–12. It doesn't mention the vote – how could it? – but it has a great deal to say about the conditions that led up to it.
The current politics isn't simply about Trump or Boris Johnson, any more than Julius Caesar is simply about Brutus or Mark Antony . . . When novelists write about Trump, or about Brexit, they are writing about all of us
Amanda Craig also ventures into the country in her latest novel, The Lie of the Land, which was published in June 2017 having been seven years in the writing. Metropolitan-elite types Quentin and Lottie Bredin have suffered from the 2008 financial crisis and can't afford to divorce. They leave London – 'to be a Londoner, Quentin thinks, is to be in a Britain that is more confident, more tolerant, more civilised, more enterprising and more beautiful than the rest of the country' – for Devon, where they find an economy of immigrants, pie factories, cannabis-growing farmers and kindness. The countryside is less meretricious than the city, but more depressed; its inhabitants are more insular than Londoners but more generous. Craig believes strongly in the role of fiction in helping us to understand the contemporary world. 'It's important to me that my work speaks to the moment,' she says: 'you want to write something that is both alert to what's going on, and that will stand the test of time, so that it can be a window for future generations to get some feeling of what it was like. This does seem to be a darkening time, and as a novelist that makes me happy. Novelists are the fifth horseman of the Apocalypse.'
I have an interest to confess at this point: when I sat down to the children's book I'm currently working on, the idea that someone as manifestly self-obsessed and self-interested as Donald Trump could command popular acclaim was irresistible. The notion that someone who was rude and insulting and unsympathetic to others could be a hero to large numbers of people seemed at once funny and terrifying, and perfect villain material. The book is provisionally titled The Pest House . . .
I suspect we are going to see many more Trump and Brexit novels. The current politics is such appealing material for writers and artists for a host of reasons, although perhaps two in particular stand out. First, as public discourse polarises, there is both a need and a yearning for empathy, and the job of writers is to get inside the heads of other people. Writers do actually have something important to offer here. Second, the current politics isn't simply about Trump or Boris Johnson, any more than Julius Caesar is simply about Brutus or Mark Antony. 'What happens when the Brexiteers have done their work? Who will succeed Trump?' Matthew d'Ancona asks in the programme notes to Nicholas Hytner's Julius Caesar: 'It is our own weakness that allows charismatic leadership to become autocracy.' When novelists write about Trump, or about Brexit, they are writing about all of us. The fault, as Shakespeare says in Julius Caesar, is not in our stars, but in ourselves.