From Ancient Greece to Hillary Clinton, women's anger has been ridiculed and dismissed. But we're taking back the streets, reclaiming our nasty, and shouting loud enough to be heard. Women are angry. There's a lot to be angry about
You might have noticed that women are angry. Not because you overcooked the sprouts or bought them vacuum cleaners for Christmas, though those things can be vexing too. Women are angry about all that other stuff. You know: everyday sexism, workplace harassment, the gender pay gap, structural inequality, the patriarchy, Donald Trump, Toby Young, Harvey Weinstein… More of us than you might expect are absolutely spitting fury about Harvey and all of our private Weinsteins.
If you are a woman, you might have been told that you are too angry. Your righteous indignation about all of the above is making people uncomfortable, and that's enough to piss anyone off. Women on social media are told to tone it down: 'You'll catch more flies with honey, love'. (If you want to make a woman angrier, say that.) Columnist Lynn Enright, writing for The Pool, described yelling at her husband for making light of her rage. Reclaim the Night marches are taking place all over Britain, with many more planned for 2018. And in the States, they're livid. The founders of the #MeToo movement were named Time magazine's 'Person of the Year'. Lindy West in the New York Times asks, with stone-cold fury, 'What's the alternative [to anger]? To approve? I do not approve.' Uma Thurman is 'too angry' even to talk about it yet…
While we are all as mad as hell and not going to take it any more, I wanted to learn how women historically have used our anger – and how angry women have been regarded. Natalie Haynes's most recent book is The Children of Jocasta, and the fourth series of her BBC Radio 4 show Natalie Haynes Stands Up for the Classics will be broadcast this summer. If anybody knows about all the best angry women in classical history, Haynes does, and her all-time favourite, she tells me, is Thaïs – the fourth-century-BCE Greek hetaera who instigated the burning of Persepolis, in resolution of a one-hundred-year grudge. 'She's unusual because it is such a public display of anger by a woman, and we rarely see that at any point in history,' Haynes says. 'Women's anger is so often denigrated. It's nagging or it's shrewishness or it's petulance, or something that we can belittle and render as essentially the behaviour of a child.'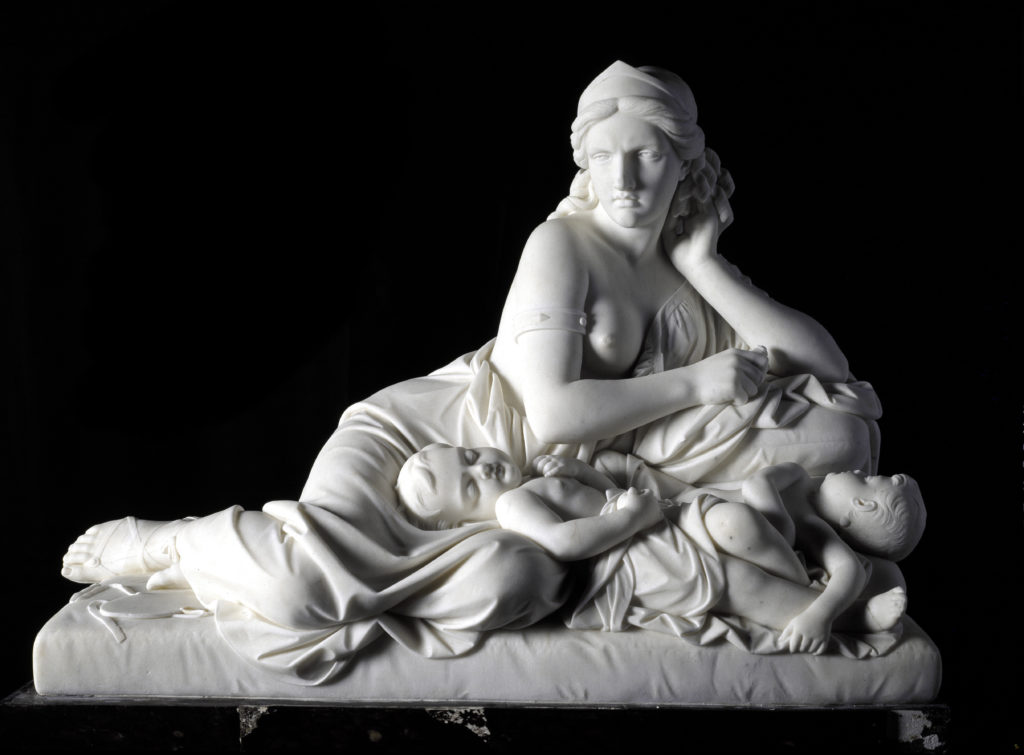 Medea, considering the murder of her children (Leemage/UIG via Getty Images)
Haynes is quick to point out an issue that is bound to skew our understanding of female rage through the ages – that throughout most of history, women, angry and otherwise, have been written and represented by men. Take Medea, who in Euripides's famous version of her story killed her own children in revenge when her husband Jason ditched her for a foreign princess. Medea was pretty cross. Haynes says: 'When you think about what that performance entailed – it's a character written by a man, being performed by a man dressed as a woman, to an audience that would have been almost entirely male, [with an] opening monologue about being stuck in an unhappy marriage because you can't go out and do anything… The idea of this character, being performed to men whose wives are at home… It is a magnificent monologue, because her anger is so pure and complete at having been abandoned.' On the other hand, Euripides may have given us the world's first bunny boiler. Don't get caught cheating, fellas, or she'll go mental, kill your children and leave your rabbit in a pot.
The long-term silencing of women's voices is explored with understated fury in Mary Beard's latest book, Women and Power: A Manifesto which, with characteristic good humour, suggests that there are 'causes for anger as well as celebration' when it comes to the advancement of women's rights. In it, she explains how men have been telling women to shut up all the way from Penelope in Homer's Odyssey to the professor herself, on social media, most days.
Recently, Professor Beard met for chat with another woman who has had more opportunity than most to practise how to manage her anger: Hillary Clinton. (Her efforts did not go unnoticed by some of her supporters; a Twitter account, @shitHRCcantsay, was set up to give voice to the presidential candidate's inner fury.) Speaking to the Guardian, Clinton and Beard discussed the many ways in which women are told to turn the other cheek, ignore it, put up with it… 'Yes, I've had a lot of practice,' said Clinton. 'You know, when Trump was stalking me [in the 2016 televised presidential debates] and leering and, oh, just generally trying to dominate me on this little stage, my mind was like: OK, I practised being calm and composed, you know, because that's what a president should be. But, boy, would I love to turn around and say: "Back off, you creep." But I didn't, because I thought then his side will say: "See, she can't take it…"'
A nasty woman is one who has managed to piss off a man for not behaving as she was expected. Or for having unladylike ideas. Or for murdering him
Among other insults, Clinton's voice, when she dared to speak passionately, was described as 'shrill'. According to Haynes, this is nothing new: Xanthippe, the wife of Socrates, was also known as a shrew and a nag. But when you consider that he refused to take payment for his teaching, and she had their three children to raise, that begins to make a lot of sense (and sound mighty familiar to a lot of modern women). 'It seems to me she wasn't angry, she was stressed,' says Haynes. 'But I think that's often the case with female anger, isn't it? There are often mitigating circumstances that are overlooked by the men who write about them.' Since the election campaign, Clinton has felt more able to show her anger, not least in her memoir of the period, What Happened. In May 2017, she gave an address to graduating students from her own alma mater, Wellesley College in Massachusetts. She said: 'Don't be afraid of your ambition, of your dreams, or even your anger – those are powerful forces. But harness them to make a difference in the world.'
The treatment of Clinton seems to have inspired, rather than deterred, angry women around the world. Last year [2017] saw a surge of genuinely angry books by women, including Beard's manifesto; Everywoman: One Woman's Truth About Speaking the Truth by Jess Phillips; Goodnight Stories for Rebel Girls by Elena Favelli and Francesca Cavallo; Why I'm No Longer Talking to White People About Race by Reni Eddo-Lodge; reissues of Margaret Atwood's The Handmaid's Tale; and the paperback of The Power by Naomi Alderman (read that if you want to feel a powerful and healthy sense of righteous fury; give it to a man to read if you want him to know why). The Bookseller reports that publishers are planning many more in 2018 (including an essay collection called Misogynation by the Everyday Sexism Project founder Laura Bates). The anthology Nasty Women, edited by Heather McDaid and Laura Jones, found its title by reclaiming a slur. Hannah Jewell explains in her introduction to another book, 100 Nasty Women of History: 'In the final debate of the 2016 US presidential election, Donald Trump leaned into the microphone as Hillary Clinton spoke about social security, twisted up his small, wrinkled mouth, and called his opponent "such a nasty woman". The phrase has stuck around since he first uttered it. It's been whacked on t-shirts, it's been put in Twitter bios, and it's come to mean something more than either a smear of Hillary Clinton or a defiant rallying cry for her supporters. In this book, a nasty woman is one who has managed to piss off a man for not behaving as she was expected. Or for having unladylike ideas. Or for murdering him.'
If women in general are newly discovering their anger, however, being angry is not new to some. Joelle Owusu is one of the contributors to the Nasty Women anthology, and her essay, 'The Dark Girl's Enlightenment', mentions the old trope of the Angry Black Woman.  This is 'a myth that stems from racist stereotypes and assumptions about Black (usually African American) women,' she tells me. 'It is being perceived as the aggressor in every situation of difficulty you find yourself in. Even when you are being polite and respectful during an altercation, someone will always make a remark about a Black woman's "attitude" or "aggression".' Owusu sees this particularly on reality TV shows – in November 2017 The Apprentice finalist Joanna Jarjue spoke out to say that footage of her had been edited to make her appear 'confrontational', adding that it 'was obvious to me what my "character" was going to be', and Strictly Come Dancing's Alexandra Burke was accused of diva-ish behavior, without much evidence. But it also affects Owusu personally – 'I have found myself overcompensating in order to fight back against Angry Black Woman stereotypes. I have suppressed my own anger and true feelings' – and she has no doubt about what's behind it: 'It's about silencing women. That is the goal.'
'To respond with anything but fury when confronted with the realities of the world is to be inhumane,' writes Eddo-Lodge (photo by Amaal Said)
Owusu mentions that Oprah Winfrey and Jada Pinkett Smith have been subjected to the Angry Black Women slur. Michelle Obama has also talked about being wounded by it. 'That was one of those things where you just sort of think, "Dang, you don't even know me",' she said in a CBS interview. 'You just sort of feel like, "Wow, where'd that come from?"' Chimamanda Ngozi Adichie (author of We Should All Be Feminists) also discussed the treatment of Obama in the New York Times: 'Because she said what she thought, and because she smiled only when she felt like smiling, and not constantly and vacuously, America's cheapest caricature was cast on her: the Angry Black Woman. Women, in general, are not permitted anger – but from black American women, there is an added expectation of interminable gratitude, the closer to grovelling the better, as though their citizenship is a phenomenon that they cannot take for granted.'
Eddo-Lodge has also written about this phenomenon, and she has written the preface to a new collection of essays and poems by Audre Lorde, Your Silence Will Not Protect You, published by the feminist publisher The Silver Press in October 2017. 'To respond with anything but fury when confronted with the realities of the world is to be inhumane,' writes Eddo-Lodge. 'We should pick up where Audre left off. We owe it to her, and we owe it to ourselves.' She refers in particular to Lorde's essay 'The Uses of Anger: Women Responding to Racism', which was first published in 1981. In it, Lorde wrote: 'Every woman has a well-stocked arsenal of anger potentially useful against those oppressions, personal and institutional, which brought that anger into being. Focused with precision it can become a powerful source of energy serving progress and change.'
Photo by Jerry Kiesewetter
All these angry books by angry women make me wonder: where are all the angry female characters in fiction? Where is the heroine who responds with justified fury to the events and people that try to grind her down? I've been told to look at Lisbeth Salander from Stieg Larsson's Millennium series; Eowyn, the shield maiden from Lord of the Rings; Tiffany Aching from the Discworld novels… All women written by men. The rare angry women written by women show that female writers understand how the world tends to punish women for our fury; just look what happens to Antoinette Cosway in Jean Rhys's Wide Sargasso Sea. I tried Googling 'angry women in fiction', and found instead 'feisty women'. And Jane Eyre may have been a bit fed up at points, but reader, she married him! (Google also suggested that I might really want to look for 'female anger disorders', demonstrating neatly how the patriarchy still redefines women's anger as a form of mental illness.) Indeed, it is so rare for female authors to write genuinely angry stories for female characters that when Doris Lessing published The Golden Notebook in 1962 she was hastily lumped in with the group of writers known as the Angry Young Men.
There may be a reason for this. Take the reaction to Claire Messud's 2013 novel, The Woman Upstairs, which begins: 'How angry am I? You don't want to know. Nobody wants to know about that.' Some readers were shocked that the protagonist was not very 'likeable', and one interviewer asked: 'I wouldn't want to be friends with Nora, would you?' Messud responded angrily: 'For heaven's sake, what kind of question is that? Would you want to be friends with Humbert Humbert? … Nora is telling her story in the immediate wake of an enormous betrayal by a friend she has loved dearly. She is deeply upset and angry… Her rage corresponds to the immensity of what she has lost.' Margaret Atwood later told the New Yorker: 'Do women writers get asked this more than male ones? Bet your buttons they do. The snaps and snails and puppy-dog's tails are great for boys. The sugar and spice is still expected for girls.'
To say I'm really angry at men still seems a really radical perspective… we should continue to use all the emotions we're experiencing, but anger is harder to oppress
To a certain extent the current swell of anger we are witnessing feels like a moment. But this has happened before. We've had Simone de Beauvoir. We've read the Scum Manifesto. Will anything ever change? Lynn Enright hopes it might. After the first Weinstein allegations were heard, she says commissioning editors at The Pool immediately started receiving women's stories about their own experiences of sexual harassment and assault. 'We were reading it every single day and writing and commissioning about it, and we went through this feeling of sadness. A sort of uselessness or wondering,' she says. 'And then when the #MeToo movement tipped over … there was the sense that the anger everybody has been keeping down for years came to the fore.' As a young woman working in the media, Enright has been shocked by the strength of the recent reaction, but sees women looking at our pasts and experiencing a sense of cumulative anger at all the everyday injustices. 'I had just never really known that you were allowed to be angry. That was probably how a lot of people felt. You didn't even know that this was something you're allowed to be angry about… [And] to say I'm really angry at men still seems a really radical perspective.' Enright is optimistic, though, that the #MeToo campaign might make a difference. 'I do think something has shifted and that talking about the anger and telling people why we're angry is a good way to go… #MeToo feels once in a generation. If you work online you see these things happen and you see the news cycle burn out, but it's not happening with this. I think we should continue to use all the emotions we're experiencing, but anger is harder to oppress.'
One woman with experience of using her anger to make change is Jess Phillips, the Labour MP for Birmingham Yardley and author of Everywoman: One Woman's Truth About Speaking the Truth. Her book was praised, by Julie Burchill in the Spectator, for having 'a backbone of real glinting anger', and Phillips is proud of that. 'I think that it's really dangerous if we think that women can't be angry,' she says. 'It's OK that I'm angry… And sometimes I want people to know just how angry I am.' Phillips thinks that the best kind of writing is that which is able to incite anger – writing such as Three Girls, the BBC1 drama based on the Rochdale child sex abuse scandal. And she warns against being overwhelmed by anger – 'Because we have lives, actual lives! Normal shit, you've still got to go to the supermarket' – but she does channel her own feelings and use them to make change. 'The reason that my voice is clear on those things is partly because of my own personal anger about them,' she says. This month, for example, she has teamed up with the feminist campaigner Caroline Criado Perez to work on a British arm to America's #TimesUp campaign.
Phillips's advice to all the angry women of 2017 is: 'Basically, organise. The feminist movement that has been going all my life and long before I was born, they changed stuff because they were organised. They joined up with other women and used their voices.' Recently Phillips wrote for the Guardian, on 'a terrible, toxic week in Westminster': 'I am not playing the victim. I am not a victim. I was not triggered. I am not a snowflake – I am an avalanche.'
The women I spoke to are all part of this avalanche. 'With more women using social media to share political stories, connect with people from an array of ideologies, using political hashtags and partaking in local activism, it seems like this has spurred women on to be more vocal about the issues that matter to them,' said Owusu. 'The goal is to not back down, even if your voice, hands or bones are shaking.' Eddo-Lodge, in her preface to Lorde's book, asks: 'When we are filled with rage, how do we use that anger? How best can we join the choir?'
Phillips puts it another way, and it is this philosophy that I will channel the next time a horrified man points out that I seem to be really, inexplicably angry. She's not angry in order to be a pain in the arse, she tells people; she's angry because things needs to change. 'And I think we need to be much clearer that our anger has an outcome. We're saying this to try to change things rather than just getting pissed off about everything, because that would be really easy.' With a smile, but in a clear voice, she adds: 'Of course I'm pissed off! There's so much to be pissed off about!'