... or are we asking the wrong question? Pop music is often dismissed as a trivial form that can never emulate literature. Peter Aspden argues for the wisdom, and visceral joys, of song
In Bob Dylan's Nobel lecture, which he delivered in the form of a recording to the Swedish Academy last year, he took issue, not with those who felt he had been an unworthy recipient of the Nobel Prize for Literature in 2016, but with many of his own backers for the award. They felt that there was no significant difference between Dylan's songs and the written poetry for which the prize had occasionally been given in the past. It was all literature.
He politely, and explicitly, disagreed. 'Songs are unlike literature,' he said in the lecture's closing passage. 'They're meant to be sung, not read.' In a playful twist that was entirely typical of Dylan's regard for formality and tradition, he read the lecture over a light, jazzy piano score. Does this even count as a lecture? Are you sure?
It was a cute way to cut through the controversy which had followed the Academy's decision to award the prize to Dylan. It is peculiar, to the point of perversity, that so much effort has been devoted to denying, rather than celebrating, the role of music in Dylan's output. Even his keenest and most academically distinguished of advocates, Christopher Ricks, in his head-spinning 2003 opus Dylan's Visions of Sin, chose to tackle Dylan the poet rather than Dylan the popular musician, reserving all his analytical intensity for the scrutinising of texts, and none at all for the instruments that delivered them with such grace, intelligence and feeling.
Bob Dylan billboard (Photo by Boris Horvat/AFP/Getty)
Dylan's lecture puts forward further arguments for not treating this particular Nobel Laureate for Literature as a literary figure at all. Yes, he talks of bookish influences: specifically, Moby Dick, All Quiet on the Western Front and The Odyssey. But none of these had the transformative effect of seeing Buddy Holly for the first and only time. 'He was powerful and electrifying and had a commanding presence,' Dylan says. 'I was only six feet away. He was mesmerising… Then, out of the blue, the most uncanny thing happened. He looked me right straight dead in the eye, and he transmitted something. Something I didn't know what. And it gave me the chills.'
This is how words and music function in pop music. They appear instantly together, bolstering each other's intentions
Note that there is no mention of lyrics or music here. Just the intimacy of performance, the startling transmission of 'something I didn't know what' that changed a young boy's life. We should trust Dylan here. It wasn't words that did it for him; it wasn't the shaping of an unlikely chord progression. It wasn't even just 'the way [Holly] held his guitar, the way he stood, his neat suit'. It was all those things together. Brilliantly, gloriously, together.
The radiance and joyfulness of the golden era of popular music – its arrival announced in 1964 by the opening G eleventh suspended fourth chord of The Beatles' 'A Hard Day's Night', and now long dead – spoilt us. We grew up on words, music, performance, and expected they would continue to illuminate our lives, wisely and contemporaneously.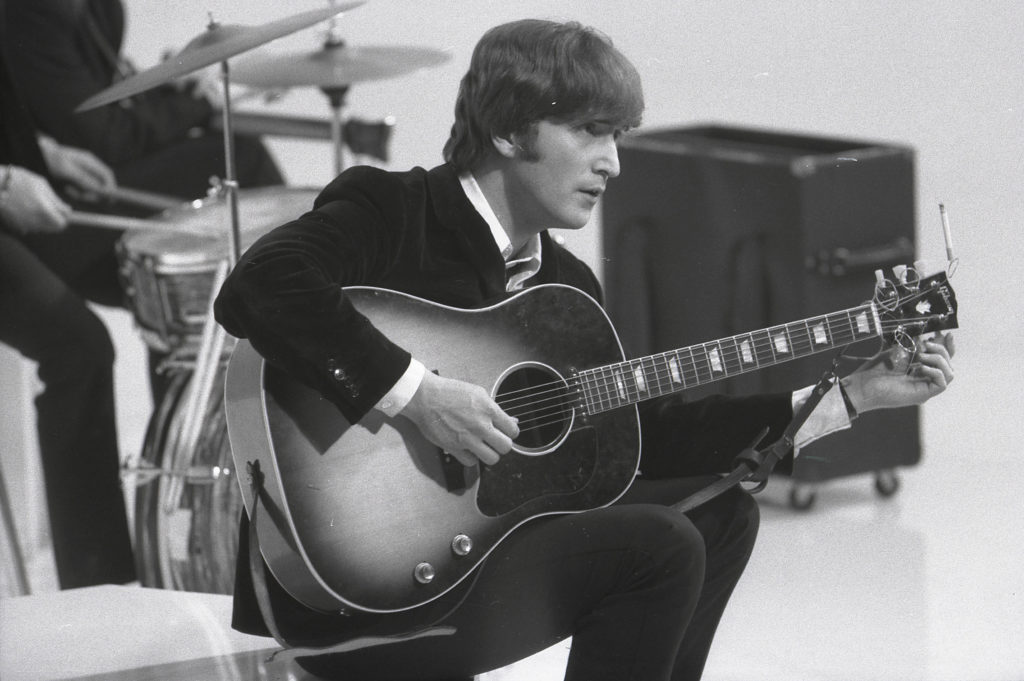 John Lennon, of the Beatles, tuning his guitar during the filming of 'A Hard Day's Night' at the Scala Theatre, circa 1960 (K & K/Redferns)
My Buddy Holly moment took place in 1976, at a David Bowie concert in London, when he appeared, emaciated and pale, to the crunching opening guitar riffs of 'Station to Station', crooning anxiously (yes, Bowie could do that) the song's opening line into the adoring crowd:
'The return of the Thin White Duke, throwing darts in lovers' eyes.'
It is not, as it appears on the screen before you, the most masterful of lines. But it is mysterious, compelling. We know enough, from real life backstory, to realise that Bowie is the Thin White Duke, and wonder what the dart-throwing is all about. It is an announcement, a statement of intent, at once snappy and epic, like a headline from the New York Times Culture supplement. We should, perhaps, be a little scared. But the fragility of the musical phrase behind Bowie's words allows us to sense the vulnerability of the moment. The stark, expressionistic mise en scène of that particular evening – here was the Duke, in person, and to be perfectly honest he was not looking terribly well – completed the picture. It was Gesamtkunstwerk for the pop generation.
I still hum that line in my head when I think of Bowie, not caring very much about its meaning, but enjoying its artfulness and still impressed by its portentousness and sense of adventure. This is how words and music function in pop music. They appear instantly together, bolstering each other's intentions through complementarity and, occasionally, downright contradiction. The best examples are sharp and confident, perfectly happy not to be assessed as literature or serious musical innovation, but capable of supplanting those art forms for visceral effect.
In Ricks's book on Dylan, he quotes Philip Larkin from a passage in which the poet explains why the 'proper place' for his verse was the printed page. The fashion for poetry readings, said Larkin, had 'led to a kind of poetry that you can understand first go: easy rhythms, easy emotions, easy syntax. I don't think it stands up on the page.' He might have been talking about Dylan's songs, which are at their weakest when scrutinised on paper, or screen, torn from the supporting structure of their musical accompaniment and, more critical still, Dylan's own voice.
Pop strikes the adolescent imagination with purpose, wit and clarity. It plants seeds in young minds, which flower into fully formed insights later in life
But why should the rhythms, emotions and syntax which Dylan interpolates between words and listener be regarded as 'easy'? Does Larkin just mean 'accessible'? Perhaps. But easy? We are close here to the condescension of Amanda in Noël Coward's Private Lives: 'Extraordinary how potent cheap music is.' It is an ironic aperçu. But who called it cheap in the first place?
Here is a couplet from Dylan that has also set stall inside my head, from the final verse of 'Idiot Wind' on 1975's Blood on the Tracks, reputedly written about the break-up of his marriage to Sara:
'I been double-crossed now for the very last time and now I'm finally free.
I kissed goodbye the howling beast on the borderline which separated you from me.' 
As in many of the opening couplets of each verse, Dylan emphasises and elongates the last syllable of each line. But here he imbues the word 'free' with something extra. He manages, in that one syllable, to convey rage, desolation, bitterness, exhilaration. Only now can he dare to kiss the howling beast. Only now can he truly envisage separation. Giving voice to the words here, as Larkin contends, certainly adds drama; but also power, pain, profundity. It is no easy way out.
The great moments of pop music – they are so much more than mere 'lines' – have this effect. Here are some more that enraptured me a long time back, and won't let go: the sunny yearning, turning sharply bathetic, of the opening of Paul Simon's 'America':
'Let us be lovers, we'll marry our fortunes together. I've got some real estate here in my bag.'
Here is Joni Mitchell, reflecting on the search for love in 'Same Situation' on 1974's Court and Spark:
'Still, I sent up my prayer / Wondering who was there to hear
I said "Send me somebody / Who's strong, and somewhat sincere"'
I was sixteen when I bought the album, and had been studying, with great earnestness, the Romantic poets for A-level. Lacking any experience whatsoever in such affairs, I found their single-minded intensity hard to handle. But here was Joni, who seemed to me to be realistic about her quest: 'strong, and somewhat sincere,' she sings pragmatically, and her plea is followed by a gorgeous trill from the string section. I thought it was a reasonable ask. If a woman as extravagantly gifted as Joni Mitchell could settle for 'somewhat', I could give this relationship business a go.
Joni Mitchell (Michael Putland/Getty Images)
Pop strikes the adolescent imagination with purpose, wit and clarity. It plants seeds in young minds, which flower into fully formed insights later in life. I was ten when I remember, just about, the Beatles' legendary appearance on The David Frost Show in 1968. They were singing their latest release, 'Hey Jude'. Paul McCartney's round-eyed optimism filled the small screen. And he sang a line which I barely noticed but later buried itself into my moral sensibility like one of the Ten Commandments:
'For well you know that it's a fool,
Who plays it cool,
By making his world a little colder.'
It's a simple little rhyme, and a smart play on words, but sung by the ever-hopeful McCartney, at that particular time in history, it took on an overwhelming significance as a clarion call for social solidarity. Don't stay out of things. Don't be apart. Even if it looks good. We are all in this together.
Popular music is rarely taken seriously these days. Its tendency to trivialise, which was there from its beginnings, has cost it dearly. So has its mass appeal. High culture demands that insight be absorbed introspectively to be of any use; any sentiment that plays out in the public arena should be treated with suspicion. Of course, Dylan knew better. So, in its way, did the Swedish Academy. It realised that songs have nothing to learn from literature. 'Sing in me, O Muse,' Dylan quotes from Homer at the end of his lecture, 'and through me tell the story.'
The Nobel Lecture by Bob Dylan; 100 Songs by Bob Dylan (both published by Simon & Schuster).