Doris Lessing's novel, 'The Golden Notebook,' sparked strong reactions when it was first published in 1962. Anti-war and fiercely feminist, its themes grappled with Communism, patriarchy and freedom, and its form was highly experimental. It tells the story of a writer, Anna Wulf, through four notebooks in which she records her life, and a fifth which attempts to join the fragment parts into a whole. Next week, the Southbank Centre in London is set to stage a live, abridged reading of the book. Ahead of it, five readers - Adjoa Andoh, Lara Feigel, Patrick French, Ted Hodgkinson and Rachel Long - reflect on what the book means to them and how it can still speak to women - and men - today.
Adjoa Andoh, actor
I was first introduced to The Golden Notebook when I had just joined a black women's group in 1981. I was doing a law degree and I was reading books by women of colour and that's what I was interested in reading. My father is African, so when I saw a book by a white African on the continent, my eyebrow was extremely highly raised. My initial response was that I had other people to read – white Africans writers were at the bottom of my heap, as were other feminists not of colour, speaking about their lot in the world.
There were things I was interested in with The Golden Notebook – the communist politics, how one navigates hardline politics with the realities of life. I have had debates, I have lived in squats, I have been to Greenham Common. But I got these things from books such as Alice Walker's Meridian and there's a myriad of other writers who talk about the conflict of life and art, such as Arundhati Roy in her poetry.
Having said that, what I loved about The Golden Notebook when I read it was her 'black' notebook. In it, she makes interesting points about what happens when you put down a story from your life experience and it becomes a novel – what happens to your artistry when the truth of the story becomes novelised, and how much of this truth might be lost.
She also wrote fantastically about an illicit relationship between a black woman and a white officer during the Second World War. That's when I said 'OK Doris, I'll give you that.' She can't help but be the woman that talks about the 'sluggish economy' in Africa, and also that everyone is slightly helpless there. But what is interesting is that she is having a go at herself for being of leftist politics and also living a life in Africa during the war – she get all the ironies of that.
I have had to face my antipathy to privileged, middle-class pondering in reading The Golden Notebook and there is richness there.
Lara Feigel, author and academic
'I believe I'm living the kind of life women never lived before,' Anna Wulf announces in The Golden Notebook. The novel hadn't made much impression on me when I first read it as a nineteen-year-old student, so I was curious rather than excited when I started it again in my mid-thirties, encouraged by older friends in the wake of Lessing's death. But I found it immediately enticing.
Anna is living the life of what she calls a 'free woman'. Though she's a loving mother, she's rejected the model of family life and is prepared to start and end sexual relationships repeatedly until she finds reciprocal intellectual, emotional and physical love with a man. In the meantime, she quests insistently after experience. 'I am interested only in stretching myself,' she writes, 'in living as fully as I can.'
I admired this because it seemed so far ahead of its time, and, in its matter-of-fact questioning of monogamous marriage, so far ahead of my own time. But what I perhaps admired it for the most was that Anna and her creator are prepared to be contradictory. Elsewhere she tells her friend Molly that they are not in fact as new as they'd hoped and admits to herself that her notion of herself as free was dishonest because she's been left in pieces by a man. 'Women's emotions are still fitted for a kind of society that no longer exists.' It all comes to a head in a brilliant scene where she spends a whole evening cooking a breaded veal escalope for a man who turns out not even to be intending to come to dinner. At this point she knows both that in seeking happiness in this way she's making herself less free, and that if she doesn't allow herself to love like this she won't be able to enjoy the sex she has freed herself for in the first place.
The novel is as nuanced about politics as it is about sex. In its multiple time periods, we see Anna committing to and abandoning communism and see at each point that she's torn between 'two personalities . . . the "communist" and Anna'. Nothing can be taken for granted, and this is perhaps most true when it comes to the mode of telling the story.
'Let us record the atoms as they fall upon the mind,' wrote Virginia Woolf, fifty years before Lessing wrote The Golden Notebook. In this novel, Lessing seems to have found a completely new way of doing this, seeing the atoms landing on the mind as comprising everything from dreams to newspaper stories to psychoanalytic sessions to drafts of fiction. The novel's disparate notebook structure enables Lessing to combine all these forms. Lessing saw the book as illustrating that society and people are splitting into irreconcilable component parts, but the form works partly against this, offering a structure that can transform the disparate into a new form of whole.
#MeToo, Momentum, autofiction – The Golden Notebook has something to say about so many of the prevailing questions of today, and often what it says is more complex than much of what we're hearing. I don't always agree with Anna Wulf. The notions of 'real men' and 'real women' make me quite uncomfortable. But Anna doesn't always agree with Anna either, and Lessing herself certainly doesn't. It's a novel that endlessly unpicks itself and that's what gives it the power to enter our thoughts so disturbingly and so enrichingly.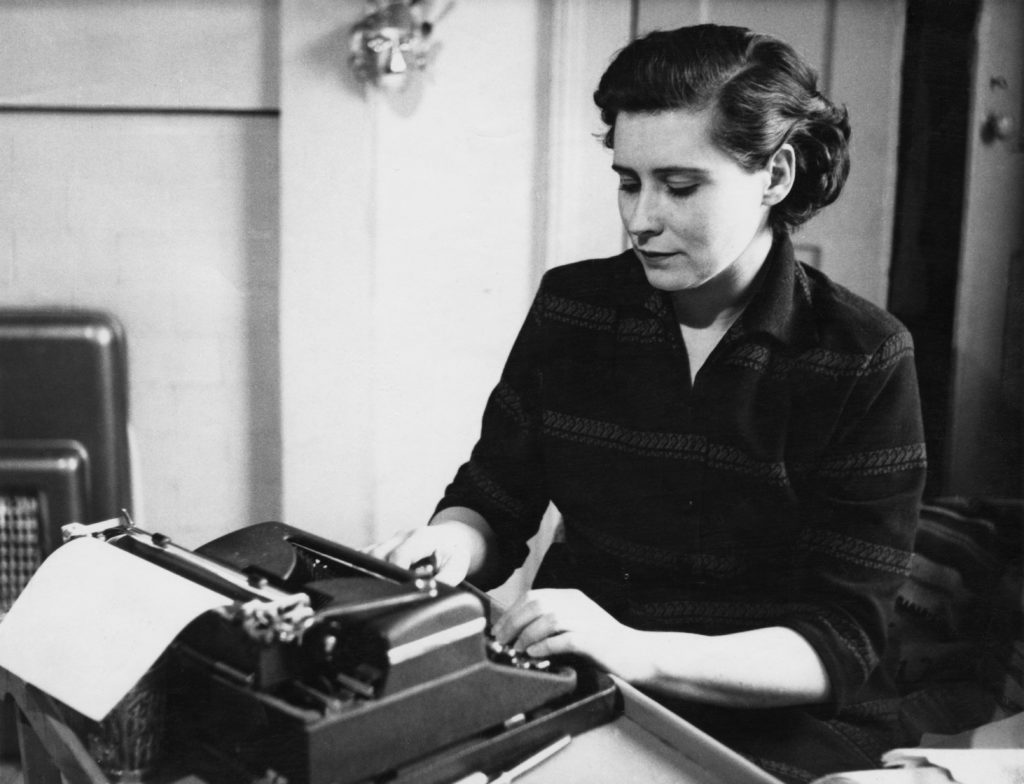 Doris Lessing, circa 1950 (Photo by Paul Popper/ Popperfoto/Getty Images)
Patrick French, author and historian
I know my mother read The Golden Notebook. I'm not sure what she thought of it, but I know she read it, and that is important to me, as a link to someone who is gone.
I read it for the first time in my twenties, and wondered whether it had been necessary to divide the novel into books of different colours since the unitary effect of the writer's intelligence and emotional life was so strong. Lessing had managed, fairly instinctively I think now, to do something many writers seek to do: to establish a tone or vibration that echoes thought, which is almost always subtler than articulation. In that aspect, I see little difference between the author and Anna Wulf, the narrator. Lessing is present throughout. She communicates the process of thinking in the mind of a person who is both intellectually agile and engaged in the world. She, or Anna, can contemplate the emotive or bodily implications in a character's conversations while ostensibly they are about a separate or intellectual subject, even while they are taking place. That is a rare achievement.
Rereading The Golden Notebook three years ago when I started to research Lessing's biography, it seemed more of its time, the early 1960s. She was a uniquely influential and multifaceted novelist, a guide for legions of women and men. Although she always engaged in the public sphere, her work was intimate, and she wrote about children, cooking or sexual pleasure as easily as about genetics, revolution or space. Self-educated but driven by a lasting belief in her own vision, she had been formed by the long twentieth century: the First World War left her father missing a leg; imperialism took her parents from Persia to the white settler colony of Southern Rhodesia; communism offered an alternative universe to the one in which she was trapped, and her version of feminism emerged from her own wartime sexual liberation and the effects of postwar social change.
Whether in the politics of the left, decolonisation or feminism, (the three most important movements of the twentieth century) Lessing appeared to be both inside and outside the group, critically present. For her generation and the one that followed, she was something like a seer. Recently, I have been interviewing powerful older women whose lives were literally changed by reading The Golden Notebook. To cite one professor: 'I had never read anything like it. It was the first time I realised you could be an intellectual and a real woman.'
Ted Hodgkinson, senior programmer at the Southbank Centre, London
I came across The Golden Notebook through my mother. I picked it up around seven or eight years ago when I was in my mid-twenties. I thought it was astounding. It requires a certain amount of perseverance and asks a lot of the reader because it is so formally ambitious – we must piece a life together through her many narratives. But it led me to think about the expectations we place on women and men, and how we become locked into playing our respective roles.
One of the key things that sets it apart from other texts of its time is that it shows the gap between what you rationally think, on paper, about equality and women's freedom, and the emotional life you live which might not meet up to these beliefs. So in the book, Anna seeks her freedom but also cooks for her partner and is essentially a 1950s housewife, but one who believes fiercely in equality. Anna is reaching towards a greater equality but this is accompanied by very human pangs. Through her, we see the fears and contradictions that plagued Second Wave feminists. There is the full humanness of radical change captured by Lessing through this gap.
The other thing I love is that The Golden Notebook is not about women in isolation but about men and women. It shows us what we would nowadays call 'toxic masculinity', and other problematic ideas that have percolated in culture about masculinity and power. What Lessing does is to show both sides of it – the great pleasure of traditional masculinity in Richard, but also the sad figure that he is – the old-fashioned man with his golfing weekends and pastel coloured shorts.
His son, Tommy, grows up around emancipated women and imbibes their values but their freedom comes at the cost of him and Lessing seems to be suggesting that there is a cost for men of a younger generation, even if they believe in women's empowerment. The world is not ready for a sensitive boy like him. This idea is a complicated one and it's developed very subtly in the novel.
I also admire the structural innovation of Lessing's storytelling. The novel comes in segmented note-books and its a very contemporary notion of narrative and subjectivity: that we break ourselves into pieces – family identity, work identity, personal identity, sexual identity…  One of the joys of The Golden Notebook is that a single life is reconciled in these multi-voices. It is making the point that we are always more than one thing at a time when women were all too often reduced to one thing.
Ted Hodgkinson (Photo by Daniela Silva)
Rachel Long, poet
Free Womxn
(after The Golden Notebook, Doris Lessing & 'Miss Black America', Morgan Parker)
Isn't she lonely         didn't they separate in summer       is she well
put together      much on the telephone   is she cracking up  I mean
when it rings does she pour          does she have a friend      a sister
Is he insisting on coming over    again   staying the night      do the neighbours
twitch
Does she consider her appearance  trousers  a sweater     has she looked better    kept her figure   a bit of a porker    sat by the window    eating strawberries   from the bowl
of her hands     did she skip breakfast   the cream   patronize her ex    will he have to take her      as she is
Can you make out the notes of her perfume   on her fridge      is she a flirt   a bit
of a gossip      is she a little fool     a fat one                Does she admit to her own pleasure         defeat        does she know the difference      what's good for her     does she practice
saying no in the mirror
Is she self-evident   actualizing   what you expected     does she selfcaresunday    is she on
her period    will she change         into something a little less comfortable                for you      Does she look like she's been to  Venice    worldly wise    is she fit for
the crook of your arm
Doesn't she want it all            to settle down    commit                     When she becomes
a mother         her mother                 have you noticed something different about her lately
a new/old anger                      isn't it quite becoming         What she doesn't understand is                her body   the blessing     her womb    her place   at the stove     of her bedroom  face pressed against    the coals  pillow  ceiling
Doesn't she love summer    for the pull-out diets   for the salads        is she disappearing
fast    too intelligent       private      how many kids             Does she make
you smile       do you tell her to       does she have a private one she keeps for herself
is it breakable
Admit she's been a little odd recently    why don't you live together     wouldn't she like help paying those bills    a man around    who filled her head with such nonsense         told her
she was   enough     that her body was her own         is she stuck
in a rut     in a grate   a ditch          heel left in the middle of the street
have they found her yet
Is she still drinking    seeing Mother Sugar    out of that marriage   the hospital   the woods    did she come back fighting     is she at her best
Does she question  cooking  cleaning   coming
off The Pill     did she try and go back to work          is there something missing
something about her that makes you want to                                                              ever
God isn't she a natural  beauty   mother        does she taste like sugar after    she bakes
Does she have a secret drawer   keep a diary  a habit of swallowing keys    does she still fancy herself      as an artist  writer  dancer   communist   failure           Is she sorry now
on the shelf   greying  barren         Does she cackle     own more than two cats            yet           When will she admit she was happier   in 1952   with you    married   brunette   34-24-36       haven't you heard    seen her around    doesn't she look like hell  in black   red   yellow    blue
Rachel Long (photo by Amaal Said)
Adjoa Andoh, Rachel Long and Patrick French will join a stellar cast to read a specially abridged version of Doris Lessing's The Golden Notebook at Southbank Centre's newly reopened Queen Elizabeth Hall on Sunday 22 April. Tickets £20. Click here for more details