By E O Higgins
The story of a dissipated genius in a borrowed hat and coat
Friday, 10 August 2012
British customs explained
The British have always found interesting ways to pass the time.
It's not just been animal cruelty, wars and serial killing (but, yes, obviously), some things have been a tad more inventive… 
Here's a quick — slightly embarrassed — glance at some of the odder practices that form part of our national identity...
Morris Dancing 
Morris Dancing is the practice of large — usually bearded — men (many of whom hold down otherwise respectable jobs at Radio Rumbelows) getting together to imbibe vast quantities of real ale from the Pewter tankards that they carry upon their belts. 
Only when they are suitably 'in their cups'  do they venture out of their chosen hostelry to the pavement outside — where they proceed to flail about blearily on their feet, attempting to defend their chosen patch of ground from the advances of other 'dancers', with the use of a large stick.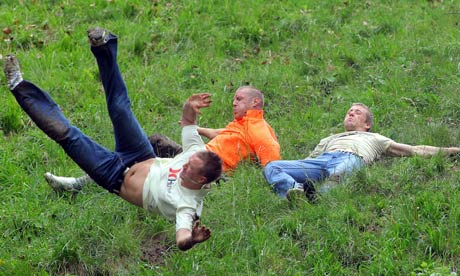 Cheese-rolling    
The custom dates back to Elizabethan times when it is said that Lord Strange of Brockworth — suffering from mange and ravaged by porphyria (as was the style of the time) — decided to take his favourite Double Gloucester on a walking holiday of the Cotswolds. 
However, Strange and his cheesy lover evidently had a hill-top tiff and — in the heat of passion — the Peer throttled the unfortunate slab of cheese and cast it down the hillside.
Lord Brockworth's guilt weighed upon him for all-but a few moments, however — and, in his despair, he threw himself down the hill after it… 
In honour of the Lord Strange's guilt and suicide, many Americans now gather at Cooper's Hill in Gloucestershire on the spring bank holiday and roll their — presumably estranged — cheeses from the summit. Then, with nothing less than reckless stupidity, proceed to follow them down. 
Due to steep and uneven surface of the hill, injuries are often sustained. (These injuries are subsequently attended to by a group of pissed-off paramedics that didn't want to spend their bank holiday standing at the foot of a hill patching up the knees of twats.)
Straw Bears
This custom involves a man walking another man around the Cambridgeshire town of Whittlesea on a leash.
The leashed man is covered in freshly-cut straw and he 'performs' outside public bars, doing dances and tricks in the style of a tormented bear. 
The tradition of the 'Straw Bear' normally takes place annually on Plough Monday — the first Monday after Twelfth Night. However, it has died off in recent times — possibly due to the overturning of a bi-law that had previously prohibited women from entering the town.
Gurning
It's a fact that the people of Cumbria are some of the ugliest in the world. A combination of poor diet (based mainly on sausage meat), a traditional reluctance to partake in any form of exercise and a startlingly low gene pool, have all contributed to the locals' natural ghastliness.
It is to the people of Cumbria's credit that, despite advanced skincare techniques, cosmetic dental work and corrective surgery, they remain, to this day, astonishingly unpleasant to look at.  
The distinctive ugliness of Cumbria's people first came to national attention when King Henry III travelled to Egremont Crab Fair in 1267.
So impressed was he that such a group of people could look as they did — without any apparent maladies — that he instantly set about celebrating their difference.
Intrigued to see if he could find the 'foulest drab of all Cumberland', the King created the competition that is still in place today. 
A sensitive fellow, King Henry took lengths to ensure that the competition would in no way patronise his subjects or develop into a freak show. 
To this end, he made certain that the crippling — almost vicious — ugliness of the people of Cumbria's mottled, toothless faces should only be appraised whilst wearing a ceremonial horse collar; or 'braffin'. 
Man-Baiting
The Daily Mail recently exposed the fact that man-baiting is still practiced in the South of England. 
According to the newspaper, one of their journalists was invited to witness a contest pitting local gypsy fighter, Paul Bury, against a Lhasa Apso hound named Cinnamon. The fight took place on open ground behind The Fighting Cocks public house in the village of Tadley, outside Basingstoke, Hampshire.  
Man-baiting was common in England in the 16th Century — but was unpopular due to the relative brevity of each contest. 
Though modern man-baiting is less aggressive (and, as a result, more sustained) than its Renaissance ancestor, it does still involve a man stripped to waist and thrown in a damp pit, wrestling with a dog. 
Whilst the contest is no longer fought to the death, often both man and beast will emerge from the pit, after ninety minute's assiduous grappling, quite muddy.
Please
sign in
to comment on this post.
Top rewards
Hardback
1st edition hardback and the ebook edition.